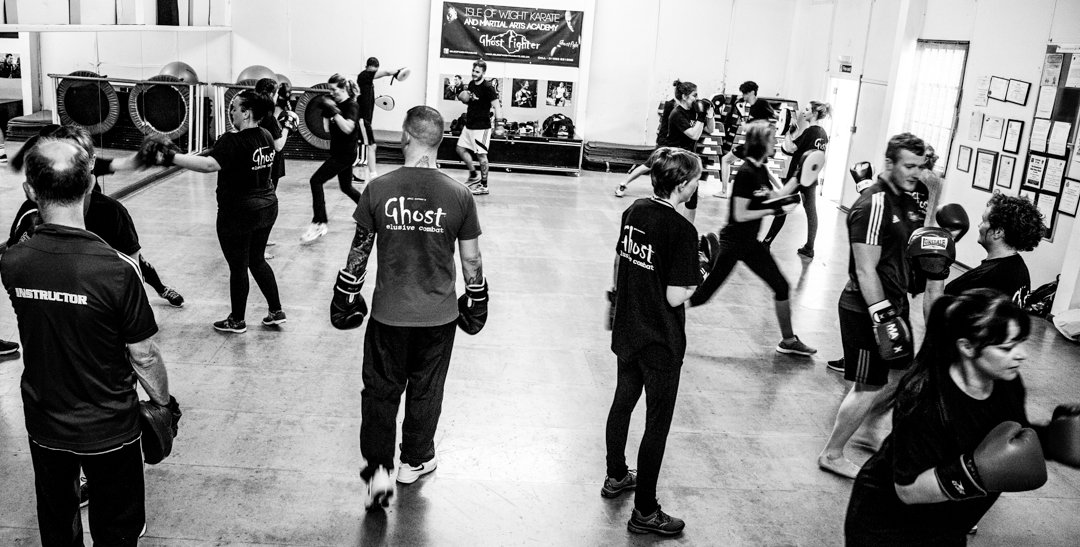 Ghost is an elusive striking system, developed over two decades of competition fighting and experience. With all things being equal, Ghost enables you strike an opponent with minimal return, leaving an opponent bruised and confused and often trying to play catch up.
This unorthodox system teaches you dynamic striking angles whilst utilising evasive movement, leaving the person in front of you hitting thin air and feeling like they are fighting a ghost!
Fantastic club to be a member of, great instructors who coach in style where everyone can develop some great skills, improve fitness and stamina and no one is left behind.
If any ones in any doubt of joining don't be….I've now done 3 weeks of Ghost Boxing & I'm really enjoying it, I was really nervous at first & thought I would be too old but it really is for all ages & fitness levels. Everyone in the group is really friendly & welcoming & Mark Elliott & Dave Cave are excellent instructors. It's a great way of keeping fit.
This is a great class with very knowledgeable instructors. Ghost is great to learn and is a very different approach to boxing , would also recommend to anyone that's trying to get fit.
Absolutely amazing class . Great instructors. All the techniques are broken down for you to understand. This is great for those wanting to learn something new and to meet new people , but it is also a great way to keep fit too. I feel so much better in myself since jumping on the ghost train!!!
Ghost = physical workout (sweat) , mental workout (learning new stuff ) 'social interaction (having a laugh ). What's not to like?
I walked in alone to my first session… and never looked back! It's fast, coordinating and structured. I've learned balance, approach and speed and would recommend these sessions to everyone. The instructors are patient and dedicated and it shows by the performance of their teaching and pupils alike. Word of warning though… it's addictive and you will sweat like a beast!